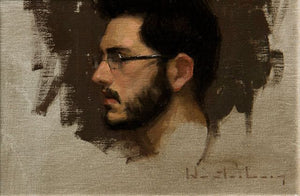 Aaron Westerberg - Zorn Palette Workshop Saturday November 5th from 9am-4pm - SOLD OUT!
Regular price $165.00 Sale
This workshop is geared for the beginner as well as the seasoned painter who wants to advance and refine their use of color. This workshop will focus on the portrait using the limited palette of the 19th century master painter, Anders Zorn. This is a very utilitarian palette and can be used for the indoor figure or portrait painting. I still use this palette today and highly recommend it to anyone who paints the human form. We will learn to accurately mix and judge color temperature and value.
The workshop will begin with a lecture and demo followed by students being assisted by the instructor as they work. We will work from

9 am to 4 pm

, taking a one hour lunch break. The fee for this workshop is $150. A list of materials will be provided shortly after registering.

There will be a fine art lecture following the workshop at 5 pm and viewing of a special exhibition >>>>>>>>

Spaces are limited and will fill quickly. Call 800-506-7624 and sign up today!